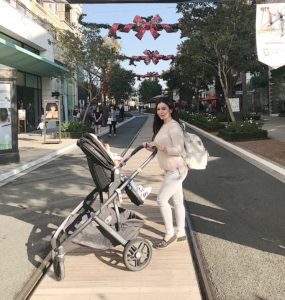 I had the most amazing opportunity to review the new Monaco diaper bag by LULI BEBE! Being a mom means always being on the go and always traveling with tons of stuff both for you and for baby. My daughter Emma is nearly two years old and I'm still shlepping around all kinds of stuff on our daily adventures. Here's a list of all the things I normally look for when choosing a diaper bag:
STYLE!- Honestly, I've seen some pretty hideous diaper bags in the past few years and there's just no way around it folks, stay away from awfully busy prints and bad synthetic materials. The Monaco is a beautiful faux vegan leather with a quilted front pocket that's easily accessible and has the convenience of a magnetic open/close feature. You can either show it over your shoulder or wear it as a backpack.
Versatility- The best diaper bag is one that doesn't really feel like your conventional bag. Its one that you feel like you can sport without having to also bring a purse along. I always love when a diaper bag has a designated "mama space", where I can place my wallet, phone, keys, chapstick, etc…The Monaco has so many great compartments within the bag where I can store all my mama essentials.
Comfort- As moms, we're always carrying our babies and straining our backs and the last thing we need is an uncomfortable diaper bag to throw on our shoulders. The best kind of bag will give you the option to either hang on your stroller, wear as a backpack or quickly throw over shoulder for fast and short periods of time when you don't have a second to wear it appropriately. Luli Bebe' offers all three on these options with their Monaco.
Easy accessibility- When your baby's laying there with a poopy diaper, the last thing you need to worry about it opening and closing the diaper bag in order to get what you need. With the Monaco, you have two zippers from each side that open the top almost completely, offering easy access to all of your needed baby items.
Easy clean up- The first day I used my Monaco diaper bag, I of course, spilled a sticky Caramel Macchiato all over it! Gosh I was so mad until I took a simple baby wipe and cleaned it right off! It was such a relief because I've had to throw an entire diaper bag in the wash before and couldn't really use it until the next day, which was so inconvenient. The inside is lined with beautiful satin that can also be easily cleaned. If you're a "Hot Mess Mom" like me then definitely get a Monaco!
Storage- Last, but certainly not least, storage is KEY! I was so amazed at the sheer size and storage space that the Monaco offers. It fits multiple bottles, clothes, diapers, wipe, creams…you name it!
I'm thrilled to say that Luli Bebe' meets all of these needs and more. It's been a lifesaver and no-brainer for us. Definitely consider it if you're a new mama or even a seasoned mama looking for something better for yourself.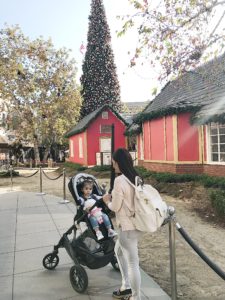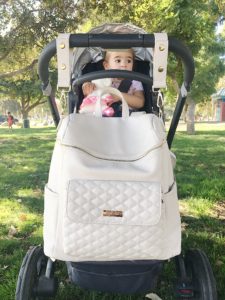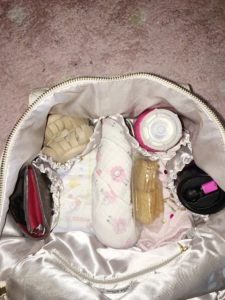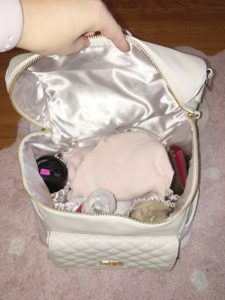 *This post was sponsored by Luli Bebe' but all opinions are always my OWN! <3