It's a time honored tradition in the Armenian culture to throw a party for your little one as soon as they cut their first tooth. An "Atam Hateek" or "Agra Hadeeg", depending on the dialect, is a celebration of babies first tooth. "Atam" or "Agra" meaning tooth and "Hateek" or "Hadeeg" meaning kernel. Other than it being a fun celebration, it's also a future profession prediction party! All the guests gather around the baby as he/she sits in front of a variety of toys that symboloze possible professions. Before baby is allowed to pick one of these symbolic toys, we place a piece of tulle above her head and sprinkle a bit of cooked barley for good luck. These kernels of barley are supposed to represent healthy teeth. After this is done, baby is encouraged to chose 3 of those toys that have been placed in front of her. For our party, I decided to order some chocolates from Chocolate Pops by Alice that were molded in the shape of:
Pencil (Teacher, writer)
Basketball (Athlete)
Book (Scholar, author)
Sewing Machine (Fashion Designer)
Violin (Musician)
Stethoscope (Doctor)
Scissor (Beautician)
Paintbrush (Artist)
Microscope (Scientist)
Computer (Techie, blogger [haha!])
Ballet slippers (Ballerina)
Gavel (Judge)
Prescription bottle (Pharmacist)
Clapperboard (Movie Star)
Lady Justice Symbol (Attorney)
Money Sign (Wealth)
 All of these represent possible future professions for Emma. Our little darling picked 3 of these chocolates: Gavel, sewing machine, and a basketball!! She's going to be a judge who plays professional basketball and designs couture dresses on her days off (insert hysterical laughing emoji!). It's really all in good fun and the main purpose of this tradition is to send baby lots of  luck on her teething journey. After all this is over, the guests help themselves to cooked barley which they garnish with cinnamon, chocolate candy, walnuts, raisins, sugar, and cooked flour. Making the Hateek (also what we call the cooked barely) is a teedious task which has to be done the day before and involves boiling and drying for the perfect consistency. Since Emma cut her first tooth around 9-10 months of age, I felt it unecessary to do two big parties. Instead, we performed the Hateek tradition at her first birthday celebration. I am so thankful for my family and friends who were there to support Emma on her special day! Here are some photos from the teething ceremony: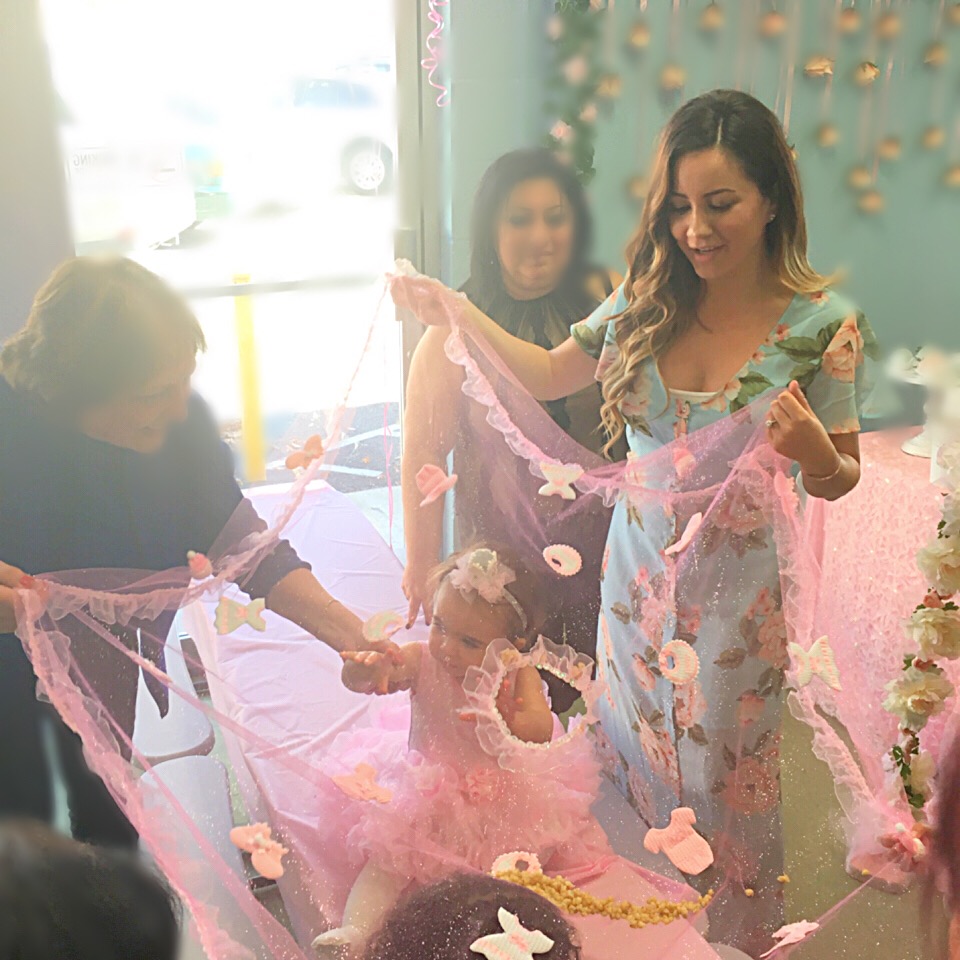 This beautiful Tulle was also bough from Chocolate Pops By Alice!